gold8erries what is it ?
ABOUT
Wine & green energy make up a perfect harmony !
Wine
Welcome to our
wine world !
RENEWABLE ENERGY
Moving now to save tomorrow !
CONTACT US
If you have any further question please let us know by e-mail or make a phone call.
Christophe Koch
Passionate, resourceful and handyman, specialised in solar energy as well as wine
It's Christophe Koch who first initiated the project of the solar park in Ortaffa, and he found in the mayor of this city a sympathetic ear and a strong partner. It is in China that Christophe discovered a different energy approach. Not in the industrial China but in the rural China. The isolated areas where traditional agriculture still makes people live. There, no grid connection: residents must produce their own energy and save money. Solar panels have been installed in many towns, establishing a model of energy conservation. It is this philosophy that Christophe wants to replicate in France, again combining technical innovation and ecological conviction. Virtuous circle, always. Father of six children, he hopes to leave to the future generations a more sustainable world, a common world, a greener one.
Who are we ?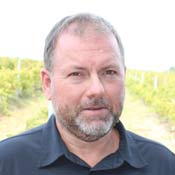 We have with my wife Florence, and children: Loic, Laura, Lucie, Louise and my two elder Lea and Baptiste, the willingness to actively participate in the energy transition, for everyone.
Want to test your knowledge
about wine ?